Your Study Type

Fish and other vertebrates

OECD 210: Fish, Early-life Stage Toxicity Test
OECD 210: Fish, Early-life Stage Toxicity Test
Early-life stages of fish are highly sensitive towards chemicals reaching water bodies with respect to juvenile development and growth. Accordingly the test system is used in environmetal risk assessments because it detects general toxic potential of chemicals. Besides, the parameters hatchability and development are also sensitive to endocrine disruptors which is the reason why the fish early-life stage test became part of the OECD conceptual framework for testing of potential endocrine disruptors (OECD Guidance document No. 150).
Study Design
Test organisms
Pimephales promelas (fathead minnow)
Oncorhynchus mykiss (rainbow trout)
Danio rerio (zebrafish) [Figure below: Eggs and larvae of zebrafish]
Oryzias latipes (Japanese medaka)

Course of the test
Freshly fertilised eggs (before gastrulation) are exposed to a range of test substance concentrations under flow-through or semi-static conditions. Usually 5 concentrations in a geometric row and a control are tested. The maximum concentration tested is either the LC50 value derived from the acute 96-hour test or 10 mg/L.
Exposure duration depends on the fish speciec under investigation, e.g. 30 days post hatch for zebra fish (Danio rerio)

Endpoints
hatching
survival and behaviour
body length and body weight at the end of the exposure period
statistical evaluation, LCx, ECx calculations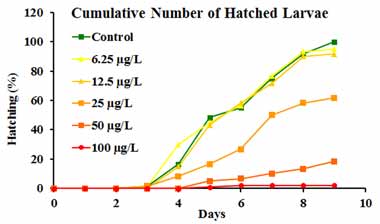 Guidelines and literature
OECD 210: Fish, Early-life Stage Toxicity Test
EPA OCSPP 850.1400 Fish Early-Life Stage Toxicity Test