Your Study Type

Fish and other vertebrates

OECD 229 Fish Short Term Reproduction Assay and OECD 230 21-day Fish Assay
OECD 229 Fish Short Term Reproduction Assay and OECD 230 21-day Fish Assay
The fish tests according to OECD 229 and 230 are short assays giving information on effects of chemicals on fish reproduction, which can be caused by endocrine disrupting effects. The performance and duration of both tests is similar, but the endpoints are different.
Sexually mature male and female fish are exposed to chemicals for 21 days according to both guidelines. The following Table 1 gives an overview of specific endpoints:
Guideline
 
Test duration
Endpoints
OECD 229
Fish Short Term Reproduction Assay
21 days post hatch

Vitellogenin
Secondary Sexual Characteristics
Fecundity
Histopathology

OECD 230
21-day Fish Assay: A Short-Term Screening for Oestrogenic and Androgenic Activity
and Aromatase Inhibition
21 days post hatch

Vitellogenin
Secondary Sexual Characteristics
Test Organisms
Pimephales promelas (fathead minnow)
Danio rerio (zebrafish)
Oryzias latipes (Japanese medaka)

OECD 230: 21-day Fish Assay
The fish screening assay of 21 days is an adequate tool to reject or verify an endocrine effect of a substance on adult fish. The following endpoints are observed and interpreted for the assessment of endocrine potential:
Secondary Sexual Characteristics
Some endocrine active chemicals may induce changes in e.g the number of nuptical tubercles in male fathead minnow or the papillary processes in male medaka. Or abnormal occurrences of secondary sex characteristics can be observed like female fathead minnows developing pronounced nuptical tubercles. For the evaluation recommended procedures are established.
Vitellogenin
Vitellogenin is an egg yolk precursor produced in the liver as response of circulation endogenous oestrogen. For the determination of the vitellogenin content, blood is collected from the fish and quantified with an ELISA method. It allows the detection of oestrogenic chemicals in male fish due to the occurrence of vitellogenin. If the level of vitellogenin in female fish is lower than in the control this might be the case because the synthesis of oestrogen is inhibited by an aromatase inhibitor.
OECD 229: Fish Short Term Reproduction Assay
The short term reproduction assay has the same duration as the fish screening assay but investigates more study endpoints. Beside the endpoints monitored in the Fish Screening Assay the further endpoints are:
Fecundity
Fecundity is monitored daily as observation of spawning and egg production. Spawning substrates are necessary for fathead minnow and zebrafish. Although this parameter is not endocrine specific, in case of unaffected fecundity a test item is not likely endocrine active.
Evaluation of gonadal histopathology
The gonads are preserved and histopathology may be evaluated to assess reproductive fitness. This might be the case on request of some regulatory authorities or when vitellogenin and secondary sex characteristics did not respond to chemical exposure. Specific endocrine-related responses determinable in histopahtological assessments are e.g. testicular oocytes and decreased yolk formation.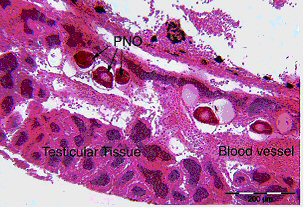 Guidelines and literature
OECD Guidelines for the Testing of Chemicals Test No. 229: Fish Short Term Reproduction Assay.
OECD Guideline for Testing of Chemicals, Test No. 230: 21-day Fish Assay: A Short-Term Screening for Oestrogenic and Androgenic Activity, and Aromatase Inhibition.