ibacon laboratories carry out 25,000 GLP studies – a cause for celebration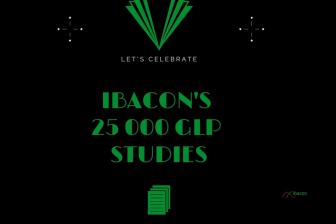 Blog by the company management team: Sabrina Westphal, Dr. Melanie Lichtenberger and Dr. Ralf Petto
This month marks a significant milestone for ibacon. In January 2021 we will undertake our 25,000th Good Laboratory Practise (GLP) study! We are hugely proud of this achievement and wanted to share it with you and celebrate. We want to thank everyone who has been involved in making this possible over the past quarter of a century: our employees for their commitment and hard work and our customers for their continued engagement and trust in us. You are the best and we never take any of you for granted.
So where did it all begin? Well, at ibacon we carried out our first GLP study way back in December 1994. While both the scope and focus of our work have evolved over the past 26 years our inquisitiveness and high standards have remained unchanged.
At the outset, work at ibacon focused on terrestrial ecotoxicology. Our first studies were an Acute Earthworm Toxicity Test and Earthworm Reproduction Test. We are happy to report that our laboratory was of course eventually up and running and our testing business began to grow and thrive. In those early days we were mostly testing plant protection products and carrying out tests with a range of species including soil organisms, honey bees and several arthropod species.
In 1997 we expanded our scope to aquatic ecotoxicology and began to undertake basic studies on algae, Daphnia and fish. As such studies require analytical dose verification we undertook to establish analytical chemistry studies shortly after.
Fast forward to 2007 and ibacon opened its Environmental Fate department which has since grown to become an important aspect of our work and has thrived over the past 17 years. This diversification was followed in 2015 by the opening of our Ecological Modelling department.
While in those early days our work was focused on plant protection products, today we have significantly extended this scope and now cover a wide diversity of product groups including industrial chemicals, biocides, human and veterinary medicinal products and others.
Our successful development at ibacon has embraced new techniques and approaches as science and regulatory requirements have tremendously evolved. Ibacon took actively part developing such new techniques and testing protocols. Development has also been accompanied by a growth in the geographic spread of our customers. Although we have been working for an international clientele from the outset, we have spread our wings and our geographic horizons. Now in 2021 some 50% of our studies are undertaken for European customers plus some 25% from Germany and almost 25% of our customer come from overseas, like Japan, Australia, United States etc.. 
We are hugely proud to have reached our 25,000 test milestone. It's an important achievement for everyone at ibacon. Our team continues to be committed to excellence and offering our customers the very highest standards. Here's looking forward to the next 25,000 studies.