Assessing effects on the lifecycle of an insect species (Chironomus sp.)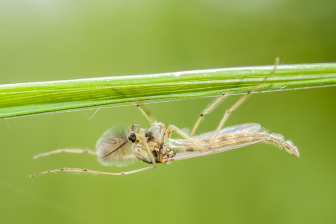 Lifecycle toxicity tests on the freshwater dipteran genus Chironomus offer an effective means of assessing chemical effects in aquatic ecosystems. Chironomids are representatives of the sediment-dwelling organisms in aquatic ecosystems and are especially exposed to persisting chemicals accumulating in the sediment.
The Chironomus species are a well-known and standardised species for laboratory testing and ibacon is offering OECD 233 Sediment-Water Chironomid Lifecycle Toxicity Testing using spiked water or spiked sediment.
Chironomids often play a key role in aquatic water systems. The species occur in high numbers and are an important food source for other invertebrates and fish. The adults are also prey to bats and birds. Due to its important position in the food web as both larvae and adults, the group needs protection.
The Sediment-Water Chironomid Life-Cycle Toxicity Test starts with first instar larvae of freshwater dipteran Chironomides. They dwell in artificial sediment in test beakers until metamorphosis. Once this occurs the adult animals from the replicates of each concentration are removed from the beakers and pooled in separate test cages where they can fly freely. The adults live for only a short time. After mating, the females lay their eggs as egg ropes in water. These egg ropes are counted and transferred to new test beakers where the larvae hatch, live in the sediment until metamorphosis and then emerge as adult midges.
Hence the assessment stretches over more than one generation and reflects one complete lifecycle of the insects.
The test chemical can either be applied to the test water or into the sediment. The effects on survival, growth, emergence and reproduction are assessed in comparison to a control group.
Two different scenarios can be foreseen in testing with Chironomids: a sediment exposure scenario for chemicals accumulating within the sediment and when run-off is the main entry route of pesticides; or a water exposure scenario which simulates a pesticide spray drift event or chemical spills.
The Guideline requires analytical assessments of the applied test chemicals and ibacon can adapt or develop suitable methods for both water and sediment analysis.
Ibacon's experience with Chironomus testing dates back to 2002. We have performed almost 100 studies with the species – mostly according to OECD 218 and 219 which is a test lasting for approximately 4 weeks, but also according to OECD 233.  We also took part in the ring-test for development of the Chironomid Lifecycle Toxicity Test in 2009.
We have the capability to perform both standardized tests and tailor-made studies including: repeated water renewal adapted to the fate characteristics of the test chemical; exposure with the test chemical via foodstuff; combination of chironomid testing and modelling approaches; and use of auxiliary male beakers if the testing of Chironomus dilutus to ensure sufficient mating of that species.
We use Chironomus riparius as our preferred test species. However, testing of Chironomus dilutus is also suitable despite a longer test period, and Chironomus yoshimatsui is a further option.
Ibacon is enlarging its capabilities following an increased number of requests for Chironomus testing and looks forward to meeting client demand.
For more information about this wonderful species, click on the download button below.