BLOG: Enantioselective analysis
Enantioselective analysis in environmental risk assessment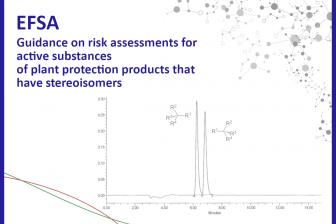 By Patrick Riefer, Head of Environmental Fate - In the guidance document on risk assessments of active substances in plant protection products that have enantiomers or stereoisomers as components or impurities, and for transformation products of active substances that may have stereoisomers (EFSA Journal 2019; 17 (8): 5804), it is stated that the isomers should, as a general principle, be handled as different chemical components in environmental risk assessments.
For the environmental fate risk assessment, it is necessary to determine how the isomeric composition changes in the study over time. Consequently, the analytical methods should be able to quantify individual stereoisomers separately.
At ibacon, we have established techniques for analysis of enantiomeric or diastereomeric active substances. The methods are designed to be cost efficient. The use of state-of-the-art equipment facilitates a flexible use for different applications and objectives.
Tailor made solutions could be offered including mixed approaches with methods not discriminating enantiomers for routine analysis and methods discriminating enantiomers for confirmation. All methods used will be fully validated.
Using these methods, changes in isomeric compositions in environmental fate studies can be investigated, as required by current regulations.
Want more information about enantioselective analysis in environmental risk assessment? Click on the download button below.