State-of-the art laboratories offer excellent techniques in assessing environmental fate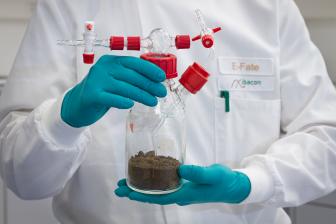 By Patrick Riefer, Section Head Environmental Fate - Recent lab investments at ibacon now enable us to carry out a broad spectrum of environmental fate laboratory studies. They also allow us to offer a swift turnaround. With our extensive environmentally controlled incubation rooms and excellent equipment we have both improved the facility and increased capacity.
Assessing the environmental fate of chemicals is an essential part of the chemical registration process. Our team of multidisciplinary scientists and well-trained lab personnel have experience in performing studies on both radio-labelled and non-labelled chemicals for a wide range of industries - from agrochemical, veterinary medicine and human pharmaceuticals through to biocides and industrial chemicals...
Explore the world of Environmental Fate by clicking on the download-button.