BLOG: Environmental Fate (VMP)
Manure Degradation Study to Refine the ERA of VMP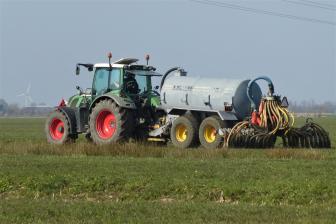 Assessment of the environmental impact of veterinary medicinal products (VMP) is a legal obligation and must be performed to evaluate and limit potential adverse effects of these substances on the environment.
The environmental exposure (PECsoil) is estimated based on the intended use of the product and compared to the predicted no effect concentration (PNEC). If the trigger value for environmental exposure is exceeded (risk quotient), a specific investigation assessing the effects of the substance on particular ecosystems is required. However, no further investigations are needed if the exposure concentration can be refined to a level of no concern. One option for refinement is to carry out a degradation study in manure.
No OECD guideline for investigating the degradation of veterinary medicines in manure is yet available. In 2015/2016, a test procedure was developed during an inter-laboratory comparison test (ring test). ibacon took part in the ring test and was involved both in the development of this test procedure and in discussing its key elements.
We at ibacon offer the study assessing degradation in manure as a standard test in several manure types (cattle, pig or chicken) under GLP conditions. The experience we gained enables us to identify the essential parameters of the study and to design the investigation of your substances in the best possible way.  
References:
Guideline on environmental impact assessment (EIAS) for veterinary medicinal products - Phase I, CVMP/VICH Topic GL6 (Ecotoxicity Phase I), CVMP/VICH/592/98-FINAL, June 2000
Guideline on Environmental Impact Assessment for Veterinary Medicinal Products - Phase II, CVMP/VICH Topic GL38, CVMP/VICH/790/03-FINAL, October 2005
Guideline on environmental impact assessment for veterinary medicinal products in support of the VICH guidelines GL6 and GL38, EMA/CVMP/ERA/418282/2005, June 2016
Guideline on determining the fate of veterinary medicinal products in manure, EMA/CVMP/ERA/ 430327/2009, revised in 2011
Junker T, Römbke J, Hennecke D, Herrchen M, Düring RA, Thiele-Bruhn S, Meinerling M, Fiebig S, Topp E, Völkel W (2016), Harmonization of environmental exposure assessment for veterinary pharmaceuticals and biocides: ring test for validation of a draft test protocol for studies on transformation in manure.UBA-Texte 80/2016, Umweltbundesamt, Dessau-Roßlau, Germany, p 231, November 2016, https://www.umweltbundesamt.de/publikationen/harmonization-of-environmen...